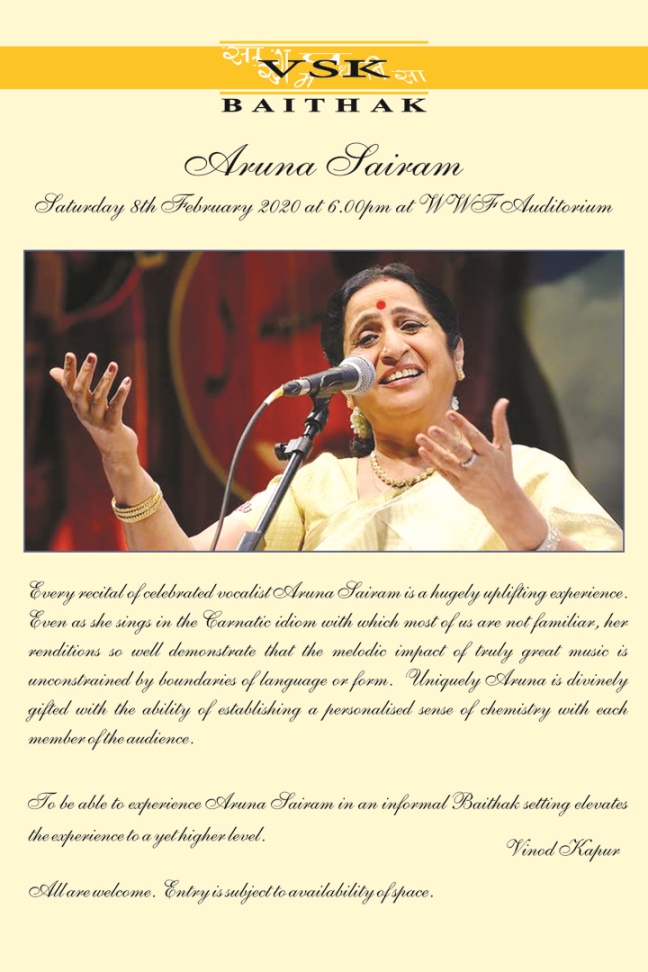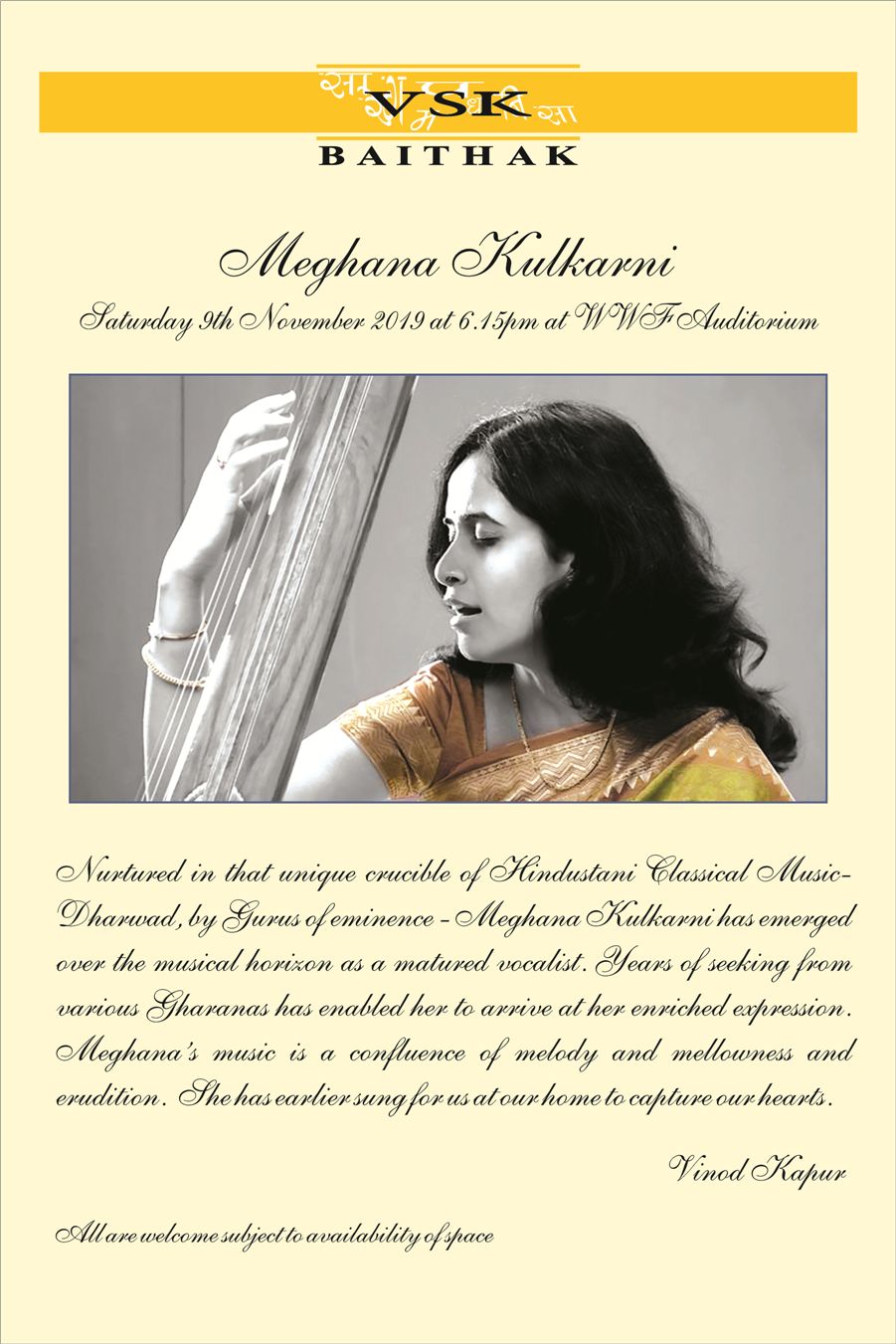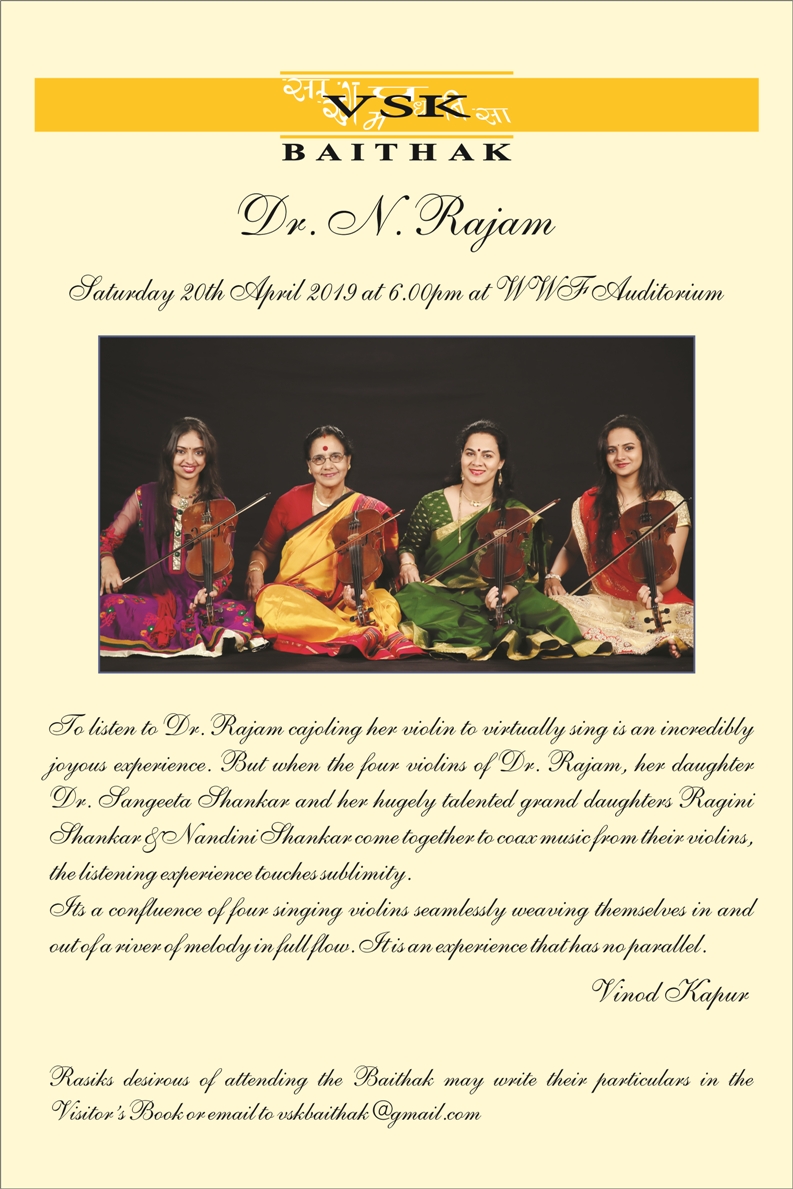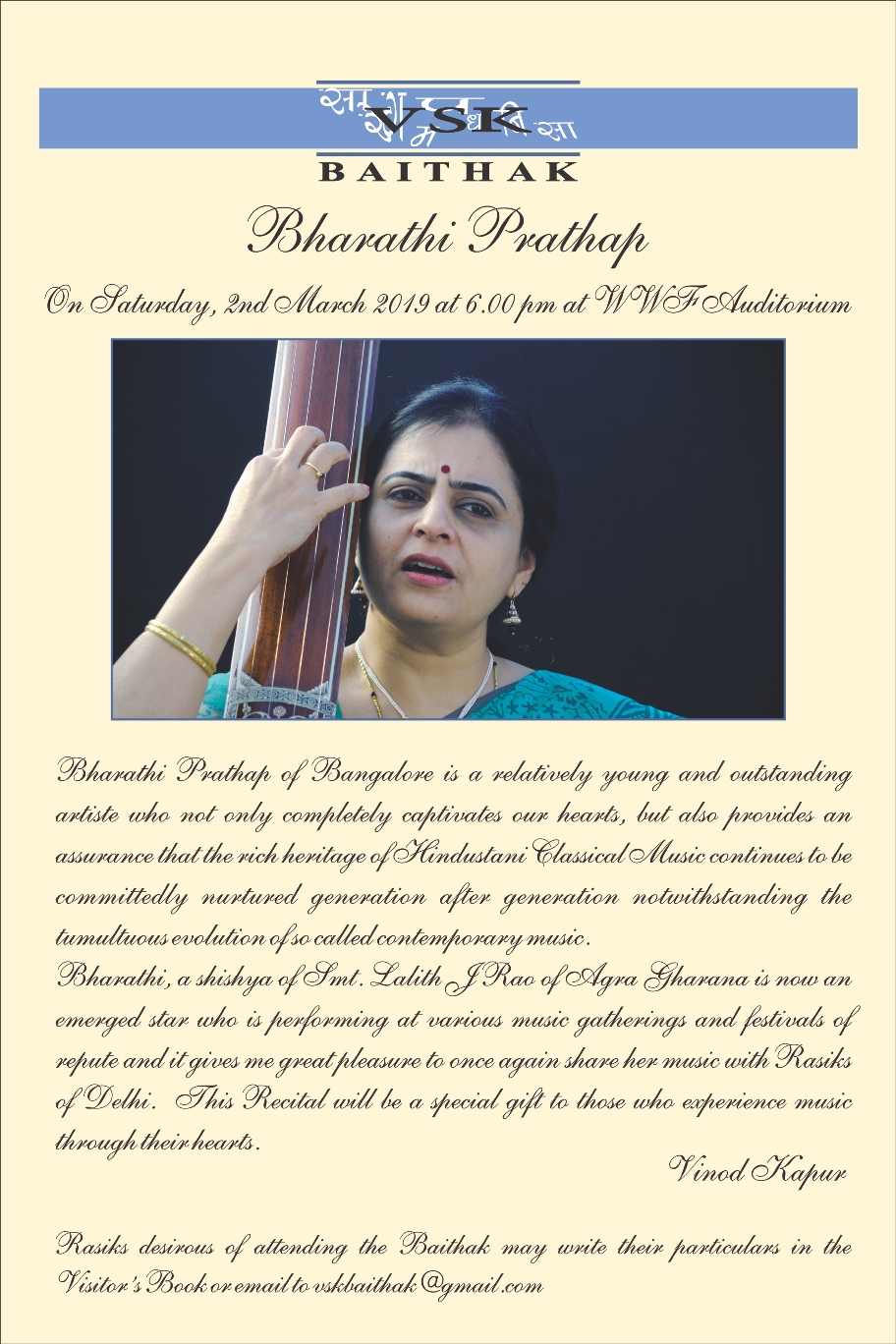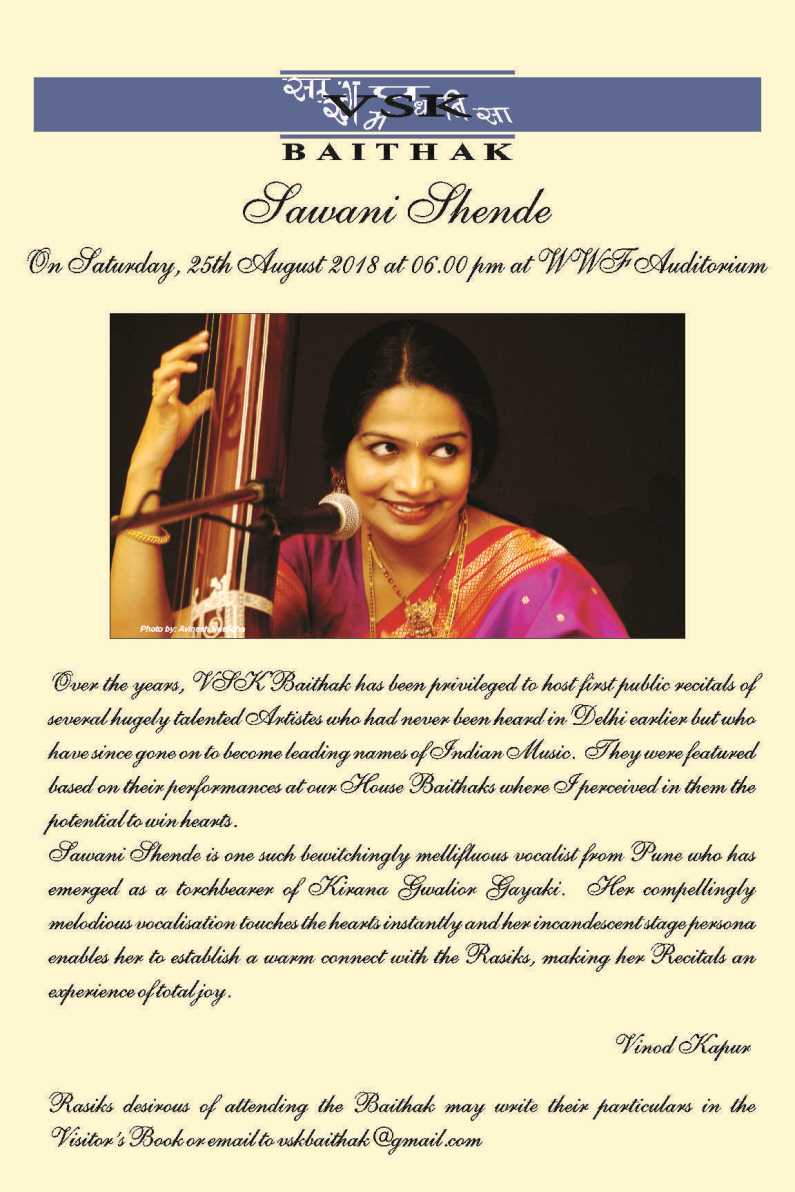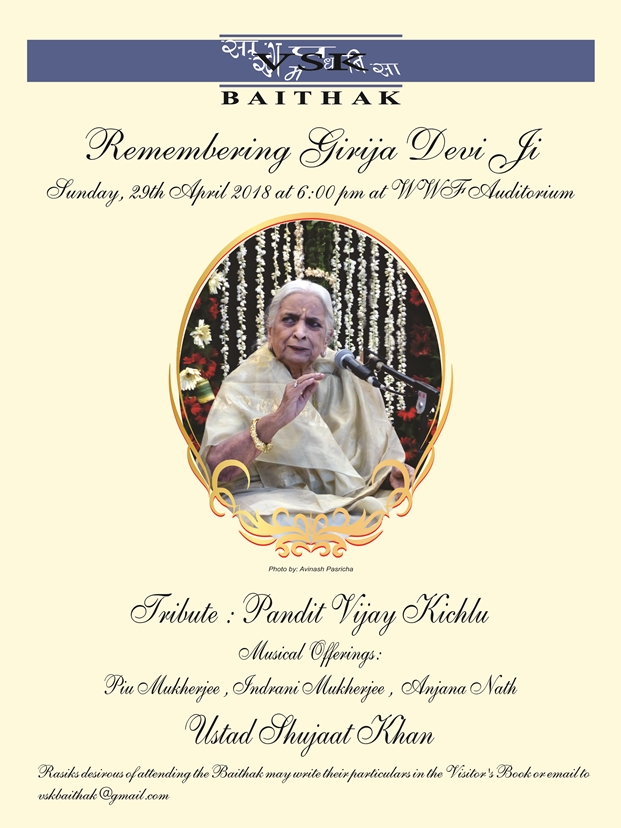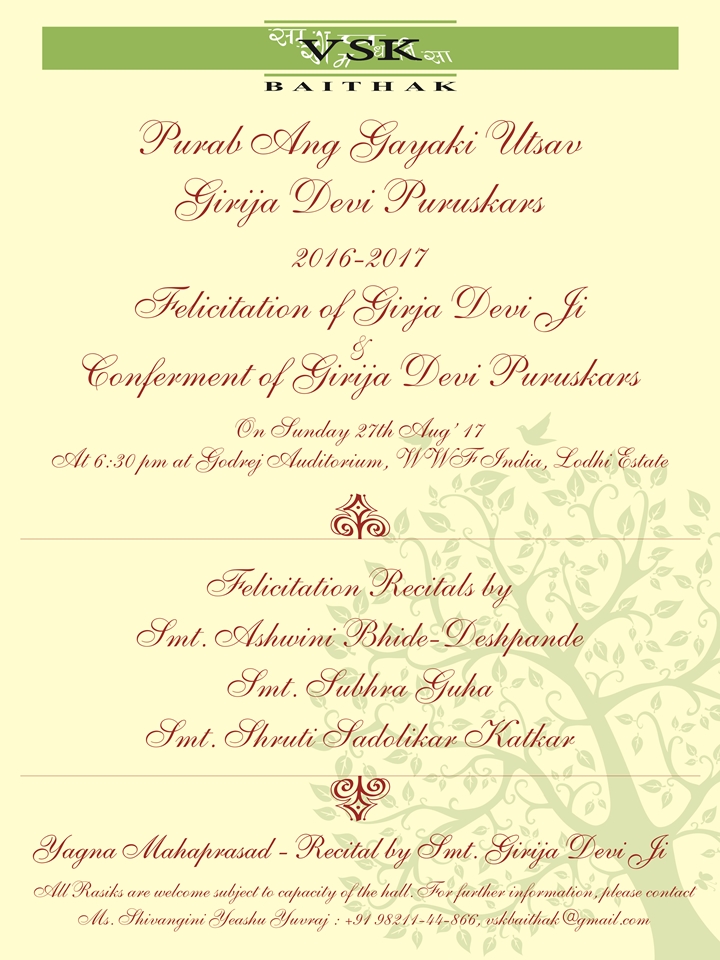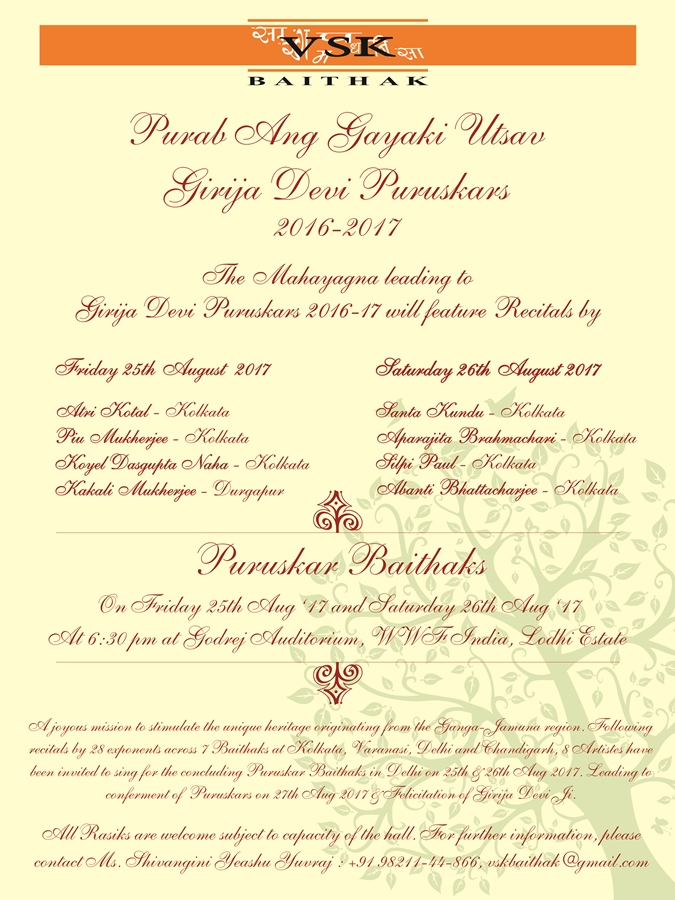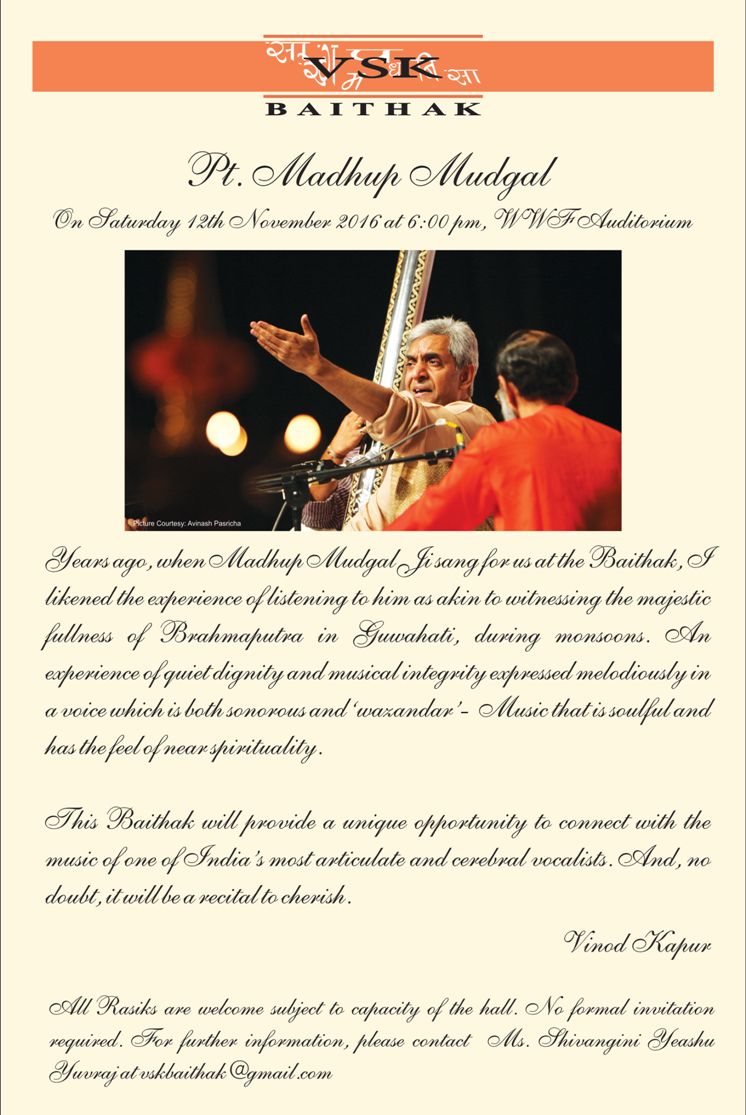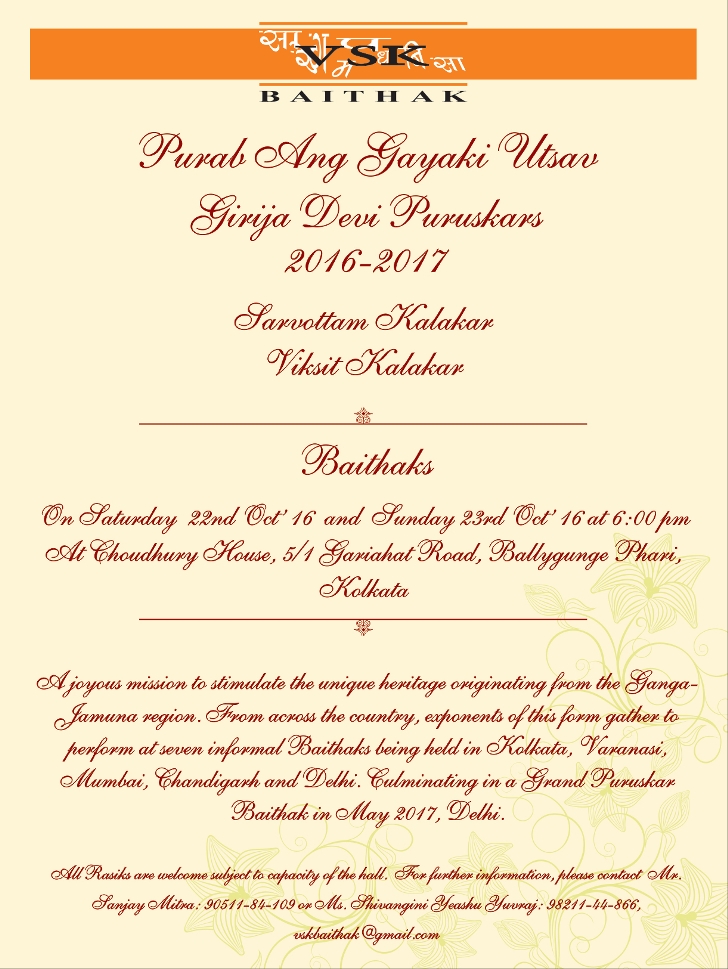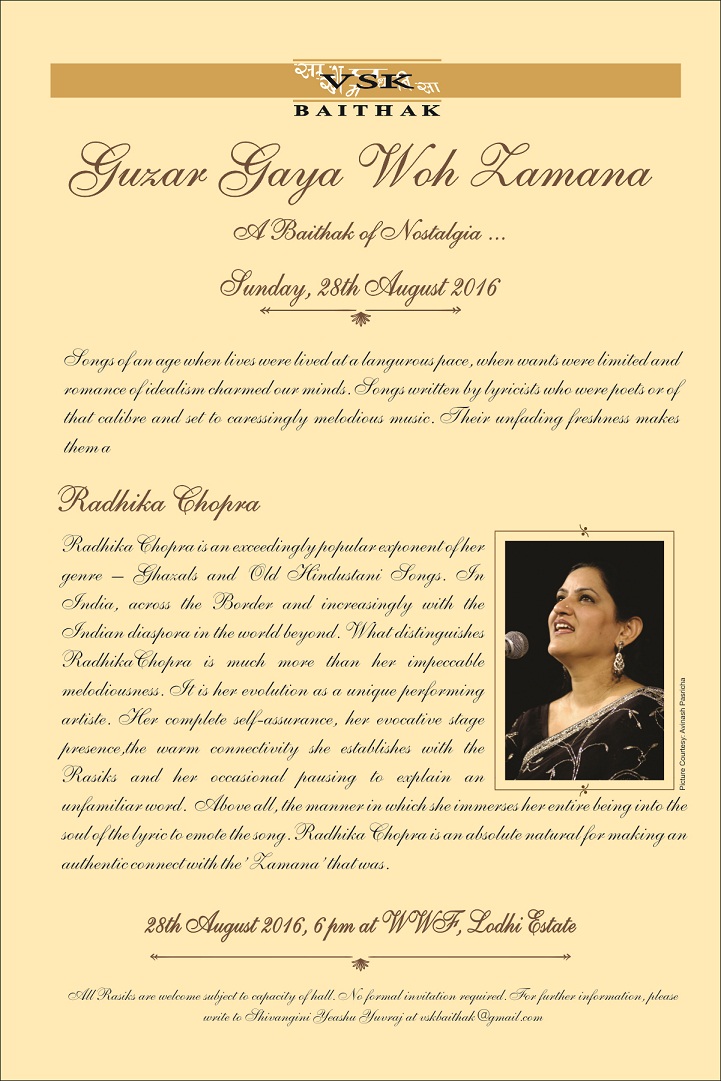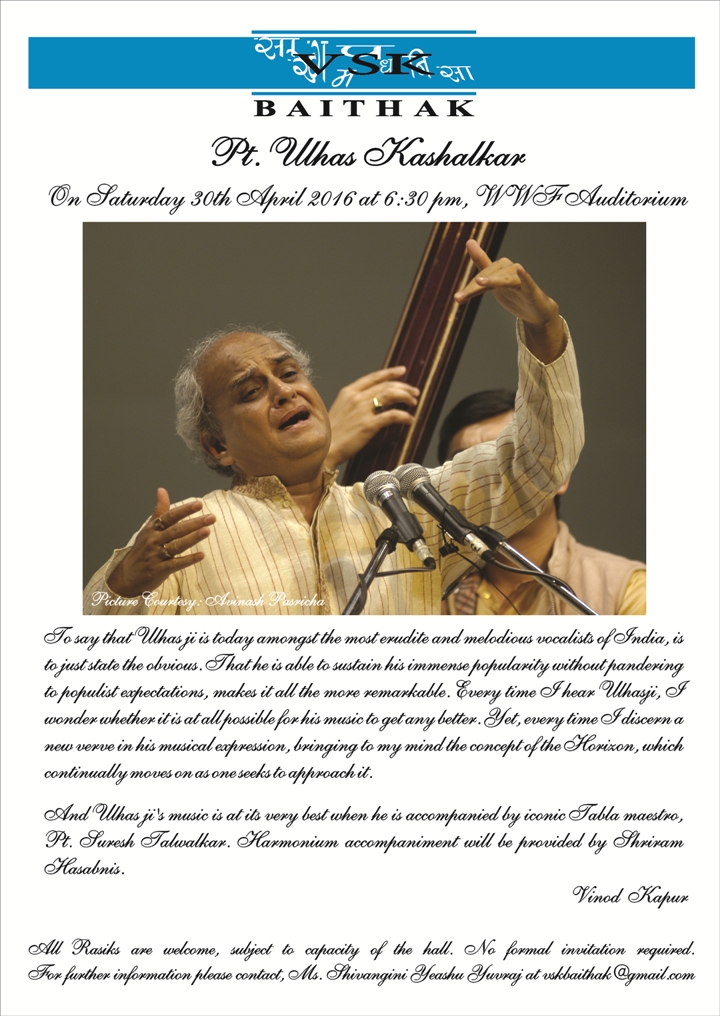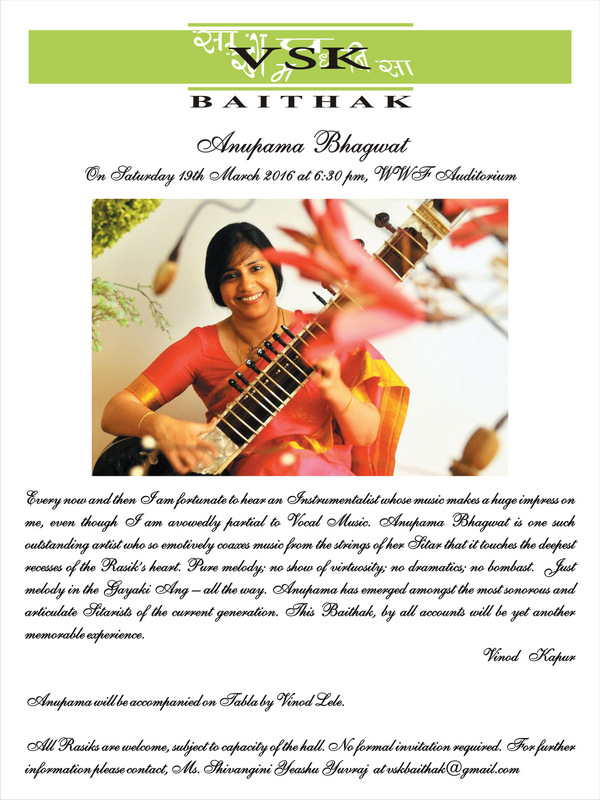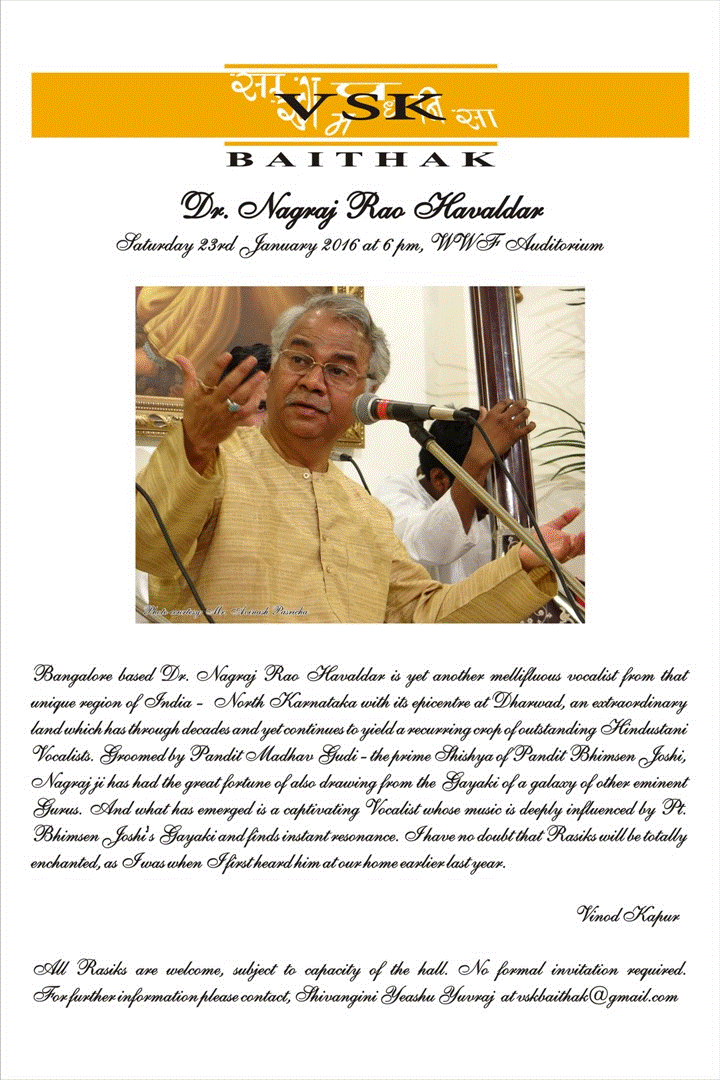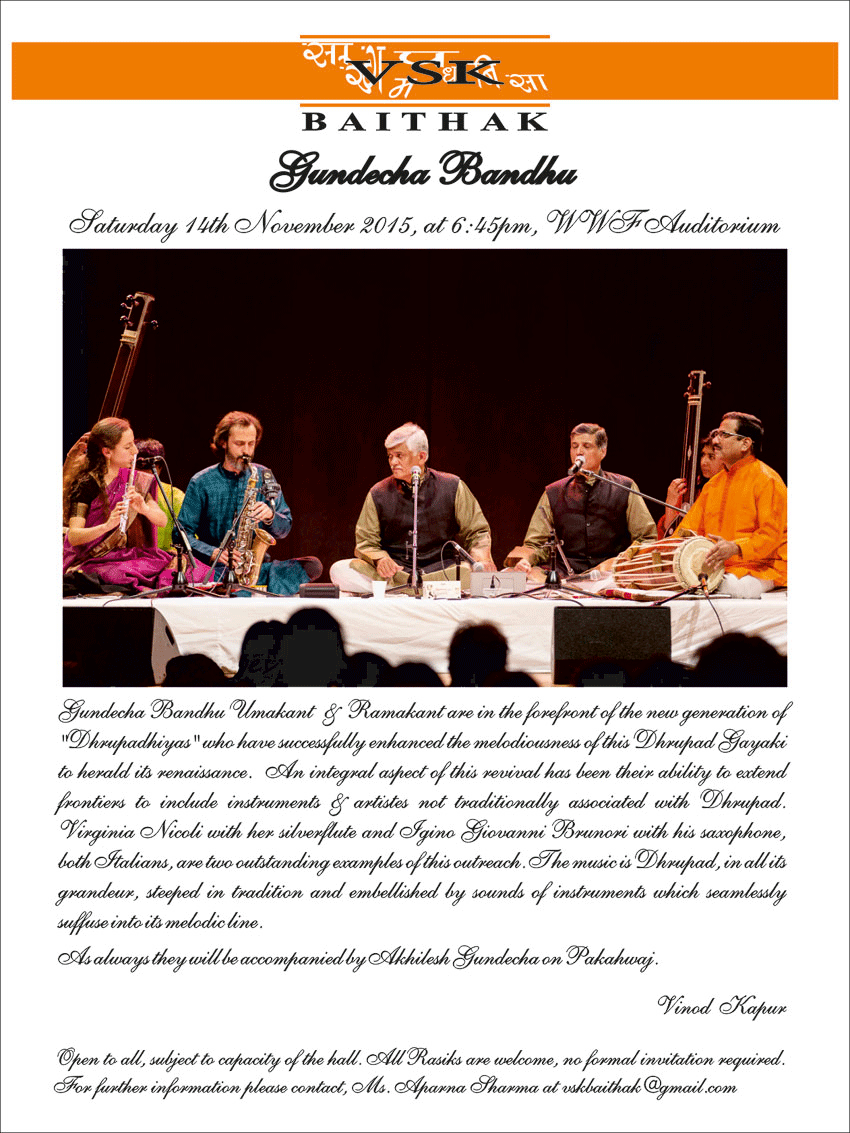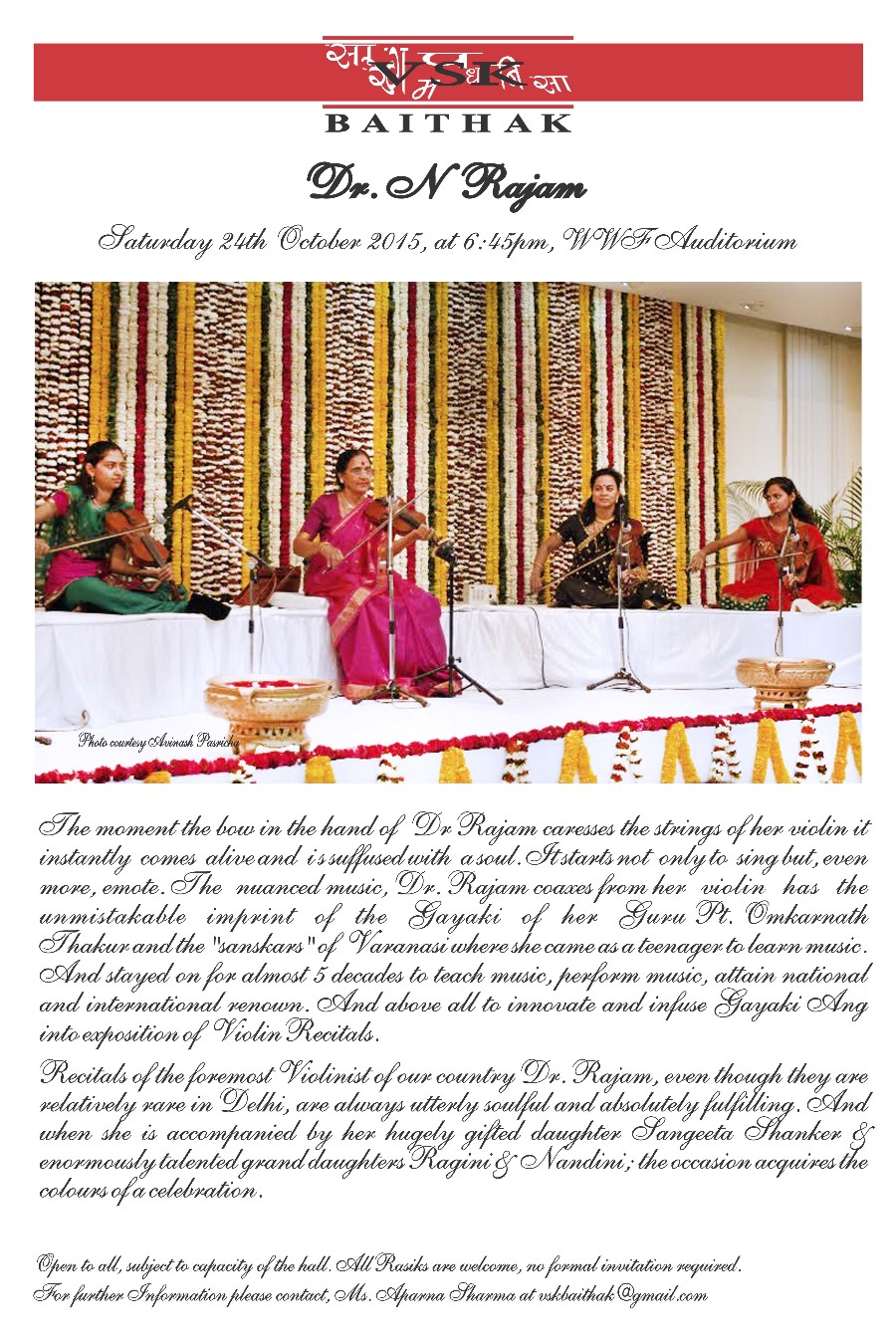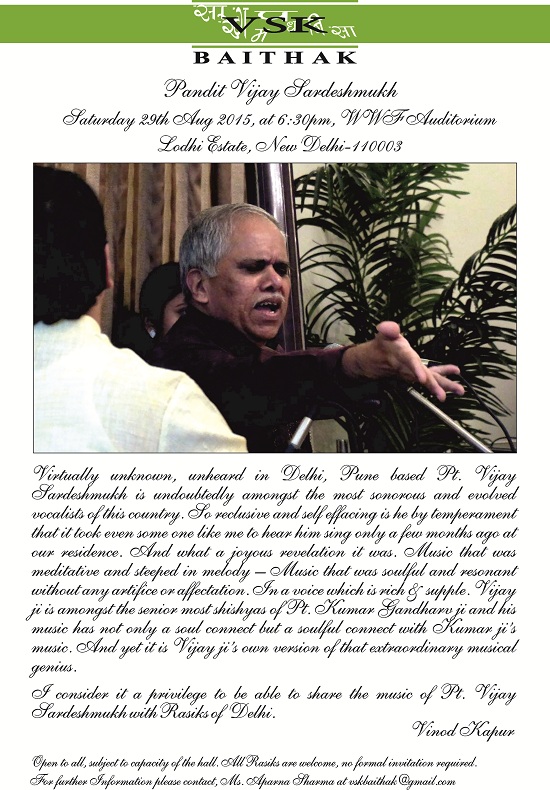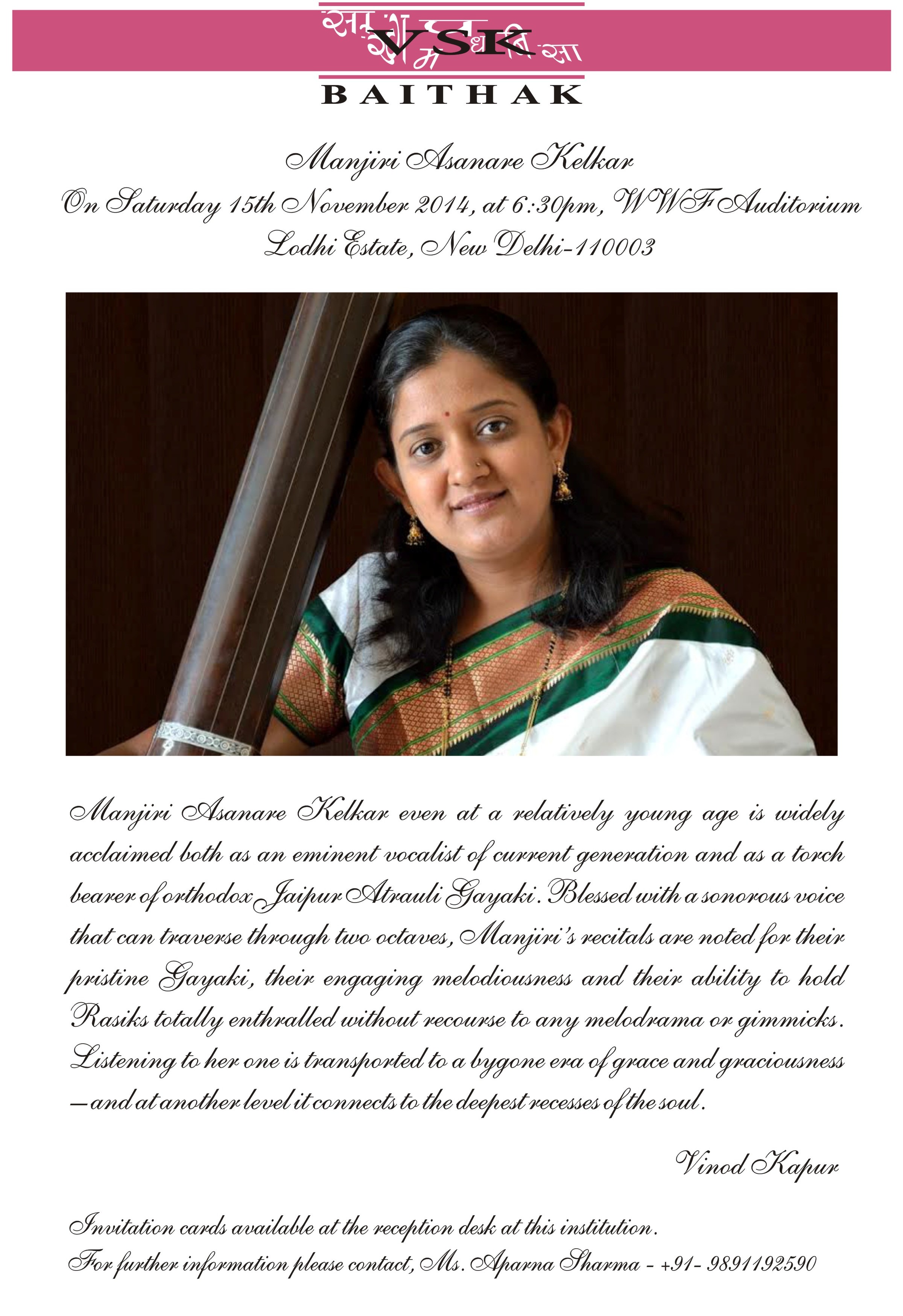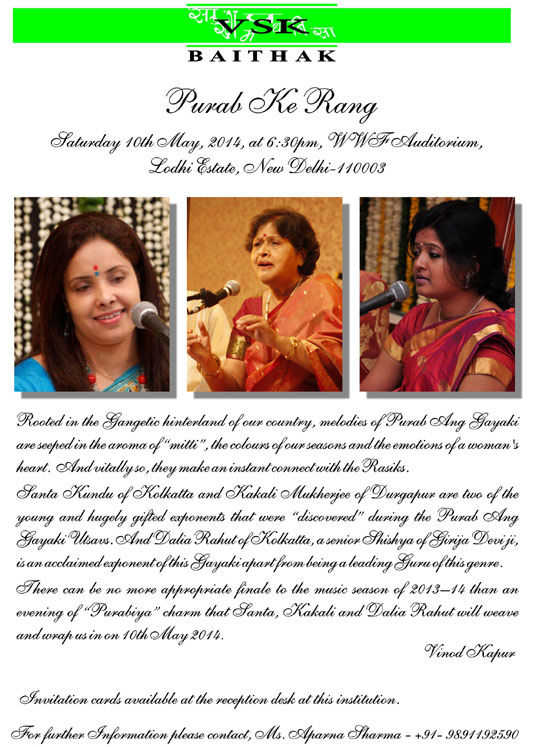 Pt. Vidyadhar Vyas
Saturday 8th February 2014, at 6.00pm, WWF Godrej Auditorium
A Hugely gifted and erudite vocalist Pandit Vidyadhar Vyas inherited the legacy of Gwalior Gharana Gayaki from his illustrious Guru and father – Pandit Narayan Rao Vyas. Yet he never permits his enormous scholarship to overawe the melodiousness of his recital or sensitivity of expression. A mellow voice being its defining characteristic. At the peak of his singing career now, a yet new dimension has emerged in his renditions. – "Ras" that comes in the ripened phase.
Pandit Vidyadhar Vyas accompanied by Vinod LeLe on Tabla and Paromita Mukherjee on Harmonium.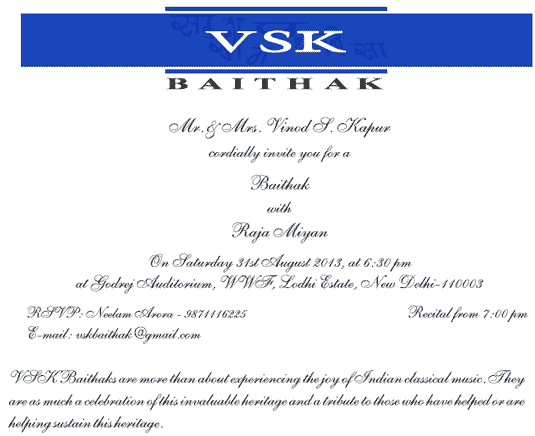 Purab Ang Gayaki Utsav Purukar Baithaks and Puruskar Sandhya
Baithak on 15 & 16 March
We lit a small spark last year-a spark of hope that a heritage that was receding into shadows could be brought centre stage. The spark that we lit-Purab Ang Gayaki Utsav-is now happily a flame that is fuelled by the efforts and the love of the music fraternity, exponents and Rasiks across the country. This year, 6 Baithaks of the Purab Ang Gayaki Utsav were held at Delhi(29-30 Sept'12), Kolkata(27-28 Oct 12) and Varanasi(17-18 Nov'12) which featured 24 artistes of the the original 49 enthusiasts. Of these 24 artistes, under the guidance and opinions of the Margadarshaks (who included Dr Rita Ganguly, Smt Shanti Hiranand, Smt Savita Devi, Smt Malashri Prasad, Pt Mohanlal Mishra, Late Smt Purnima Chowdhury, Dr Ritwik Sanyal, Smt Dalia Rahut, Smt Manjari Sinha, Smt Meena Banerjee,and Smt Shikha Rai Chowdhary), 8 artistes were invited to perform at the Puruskar Baithaks at Delhi this March.

The Maha Yagna-the Final Puruskar Baithaks and the Puruskar Sandhya of the Purab Ang Gayaki Utsav 2012-2013 Girija Deviji Puruskars were held on 15th, 16th and 17th March at WWF, Lodhi Estate, New Delhi. The first two evenings of the Puruskar Baithaks had the 8 artistes:
15 March : Shivani Haldipur, Moumita Mitra, Sabina Rahaman, Jhumpa Sarkar,
16 March : Santa Kundu, Aparajita Lahiri, Sohini Roy Chowdhury and Abanti Bhattacharjee

The mission to take Purab Ang Gayaki ahead would not have been possible without the support, and enthusiastic participation of several individuals, associations, artistes and Rasiks. The Puruskar Sandhya on the 17th March felicitated the spirit of all those whose involvement played a key role in the success of the Utsav. Mr Vinod Kapur conveyed his heartfelt gratitude to Dr Rita Ganguly, Mr Bhaskar Mitra, Mr Avinash Pasricha, Mr Ashok Kapoor and Mr Aniruddha Chowdhury.

The eagerly awaited Puruskars announced were awarded by Girija Deviji herself
Sarvottam Kalakar: Jhumpa Sarkar
Viksit Kalakar: Moumita Mitra
Ankurit Kalakar: Abanti Bhattacharjee

The joyous celebration commenced with a recital by Jhumpa Sarkar. Girija Deviji filled the Utsav with her exquisite and mellifluous melody and brought out the spirit of the approaching festival of Holi. The artistes and the rasiks all indulged in the simple innocent ecstasy of playing Holi with rose petals instead of colors. Gulabari of Varanasi replicated in full form, colour and essence in Delhi to the backdrop of all artistes of the Purab Ang Gayaki Utsav accompanying Girijaji!!!!! A fitting culmination to an Utsav that swirled its way from Sharat Rutu to Basant!!!!

Bharathi Prathap
Baithak on 15 Dec 12.
Occasionally, I happen to hear an outstanding young exponent, who in my perception, is destined to gain national acclaim in the time ahead. Bharathi Prathap is such a Hindustani Vocalist from Bangalore. A melodious voice; in perfect sur; emotive rendering and decades of dedicated learning from eminent Gurus. She is currently under the tutelage of Smt. Lalith Rao, a renowned exponent of Agra Atrauli Gharana. Bharathi is an electronics engineer, who, by choice, gave up her career as design engineer, to dedicate herself completely to Hindustani Vocal Music.-Vinod Kapur

Purab Ang Gayaki Utsav
Purab Ang Gayaki Utsav leading to Girija Devi Puruskars is an attempt to retrieve Purab Ang Gayaki from the shadows of neglects. The Utsav held last year had 36 young exponents performing in 12 Baithaks at Kolkata, Varanasi and Delhi over 3 days at each location. Based on the assessment by senior gurus, 12 were invited to perform at Delhi for the final Purab Ang Gayak final Puruskar Baithaks held over three days. And 6 were conferred the Girija Devi Puruskars-Sarvottam Kalakar, Viksit Kalakar and Anukrit Kalakar.

The Utsav received widespread support from the leading artistes and beyond including Padma Bhushan Smt Girija Devi, Padma Vibhsushan Pt. Birju Maharaj, Padma Bhushan Pt. Debu Chaudhuri, Padma Bhushan Pt.Channulal Mishra, Padma Bhushan Dr. N. Rajam, Padma Shri Dr. Rita Ganguly, Padma Shri Smt. Shanti Hiranand, Smt Savita Devi, Smt Malashree Prasad, Smt Shubhra Guha, Vidushi Poornima Chaudhuri, Dr Ritwik Sanyal, Vidushi Dalia Rahut and others.

Enthused by the response and the joy that the Utsav brought to the rasiks and the exponents alike, we will initiate the Purab Ang Gayaki Utsav 2012-2013 in Delhi this September, where, in a series of 8 Baithaks 24 young hereto unheard exponents will perform. The inaugural Baithaks at Delhi on 29-30 Sept are dedicated to Naina Deviji and Girija Deviji will be leading the tribute to her.The schedule for the Baithaks is as follows
29 Sept and 30 Sept 12: Delhi, WWF Building, Lodhi Estate, 6:30pm to 9:00pm
Artistes : Anal Chatterjee(Kolkata), Sanjana Chakraborty(Kolkata), Abanti Bhattacharya(Kolkata), Moumita Mitra(Kolkata), Tanvi Bhattachary(Delhi), Shivani Kallianpur(Pune), Sabina Mumtaz Rahaman(Kolkata) and Tapasi Ghosh(Kolkata)
27 Oct and 28 Oct 12: Kolkata, Chowdhury Hall, Ballygunj Phari, 6:00pm to 9:00pm
Artistes : Dhanashri Ghaisas(Pune), Minaakshi Majumdar(Kolkata), Mousumi Sen(Kolkata), Jhumpa Sarkar(Kolkata), Pallabi Ghatak(Kolkata), Santa Kundu(Kolkata), Sohini Roy Chowdhury(Kolkata), and Nandini Chakravarty(Kolkata)
17 Nov and 18 Nov 12: Varanasi, Diamond Hall, Bhelupur, 6:30pm to 9:00pm
Artistes : Piu Mukherjee(Kolkata), Atindra Sarvadikar(Mumbai), Arpita Majumdar(Kolkata), Jayita Ray(Kolkata), Aparajita Lahiri(Kolkata), Madhurima Chowdhuri(Kolkata), Bishnupriya Chakraborty(Kolkata) and Chetna Banawat(Tonk)
Two Puruskar Baithaks in Feb-Mar 2013: details to be announced by Dec 2012
Puruskar evening in continuation to the Puruskar Baithaks
Margadarshaks for Regional Baithaks
Delhi: Padma Shri Dr Rita Ganguly, Mrs Shanti Hiranand, Ms Meena Banerjee, Ms Malashri Prasad, Ms Manjari Sinha
Kolkata: Dr Rita Ganguly, Pt Mohanlal Mishra, Ms Meena Banerjee, Ms Manjari Sinha, Ms Shikha Rai Chowdhuri and Ms Poornima Chaudhuri
Varanasi: Padma Shri Dr Rita Ganguly, Prof Ritwik Sanyal, Ms Dalia Rahut, Ms Meena Banerjee, Ms Manjari Sinha
Margadarshaks for Final Puruskar Baithaks
Varanasi: Padma Bhushan Smt. Girija Devi, Padma Vibhushan Pt. Birju Maharaj, Padma Bhushan Dr. N. Rajam, Padma Bhushan Pt. Channulal Mishra, Padma Shree Smt. Shanti Hiranand, Padma Shri Dr Rita Ganguly, Pandit Vijay Kicchlu and Ustaad Shujaat Husain Khan

Dr Ashwini Bhide Deshpande
On Saturday 25 Aug 2012, at 6:30pm,WWF Auditorium, Lodhi Estate, New Delhi-110003
Ashwini Bhide stands right at the forefront of the current generation of the classical vocalists. Blessed with a uniquely mellifluous voice, she received her music in heritage from her mother and Guru Smt Manek Bhide, possibly the longest standing shishya of Smt Kishori Amonkar. Building further on this inheritance, Ashwini has through her own sensitive intellect drawn selectively from the music of other masters. Ashwini is also blessed to receive as inheritance the music of Late Smt Sarla Bhide, her aunt who was amongst the foremost exponents of Purab Ang Gayaki. An absolute delight to hear anywhere, Ashwini at VSK Baithak is a yet elevated experience. There could be no better way to start the music season of 2012-13

Cards for the same available at: India Habitat Centre, India International Centre, Chinmaya Mission, WWF Bldg, Gandharva Mahavidyala, and Cottage Emporium (Connaught Place)

For further information please contact, Ms Renuka Manchiraju: +91-9873338281

Shashwati Mandal Paul
Bhopal-based and hugely talented Shashwati Mandal Paul belongs to that select group of outstanding young performers who are virtually unknown in Delhi but have been gaining recognition from an increasing number of discerning rasiks in various parts of the country. Music came as an inheritance to Shashwati from her illustrious grandfather Pt. Balabhau Umdekar who was a court musician of repute in Gwalior state and who in turn passed the legacy on to his daughter Smt. Kamal Mandal, Shashwati's mother and guru. She has also honed her talent with Balasaheb Poochwale, Mira Rao and Gundecha Bandhu.

A most engaging and melodious vocalist she enchants the rasiks with her captivating renditions steeped in tradition and its diverse expressions. Given her talent, commitment and integrity Shashwati is destined to be one of the leading vocalists of India in her time. She will be accompanied on Sarangi by Bharat Bhushan Goswami; on Harmonium by Paromita Mukherjee and on Tabla by Vinod Lele.

Pandit Ajay Pohankar
Pandit Ajay Pohankar was presented as a child prodigy at a major music concert in Kolkata in 1958, when he was 10 years of age, by Ustad Amir Khan. Unlike most child prodigies who suffer an early burnout, Ajayji has gone from strength to strength since and is now among the leading vocalists of the country. His music draws from the three major Gharanas – Kirana, Gwalior and Patiala; and what makes it unique is the soulful and enchantingly melodious manner in which it is rendered. His repertoire is not confined to Khayal and his rendition of Thumris is equally bewitching – all articulated with elegance and sensitivity. Infrequently heard in Delhi, Ajay Pohankar's recital should make for a memorable evening. He will be accompanied on Sarangi by Murad Ali and on Tabla by Sudhir Pandey.
Invitations are available at
* India International Centre, Lodhi Estate
* India Habitat Centre, Lodhi Estate
* Chinmaya Mission, Lodhi Estate
* Kamani Auditorium, Corpernicus Marg, Mandi House
* Gandharv Mahavidyalaya, Deen Dayal Upadhaya Marg
* Indian Cottage Industries Emporium

Purab Ang Gayaki Utsav
The Utsav received response from 65 artistes and in order to provide an opportunity for all artistes to perform, the festival has been enlarged to span two music seasons. The current season would allow hearing 26 artistes and the remaining would perform in the coming season.

The festival was flagged off at the India habitat Centre and 12 artistes performed from the 22nd to 24th February. The Utsav now moves on to Kolkata and Varanasi where 24 artistes would perform and out of the 36 artistes performing in three cities, 12 would be shortlisted for the return of the Utsav to Delhi by end April.

An eminent panel will then give away the 'Ankurit Kalakar', 'Viksit Kalakar' and 'Sarvottam Kalakar' awards to three artistes.

The details of Purab Ang Gayaki Utsav Baithaks are:

February 22nd, 23rd and 24th.2011
Basement Hall of India Habitat Centre, New Delhi
Performing Artistes
February 22 Sucheta Ganguli - Kolkata, Sraboni Chaudhri - Mumbai, Vidisha Mukherji - Kolkata,
Manasi Majumdar - Kolkata.
February 23 Piu Mukherjee - Howrah, Dr.Aditi Chakraborty - Kolkata, Suchisree Ray - Kolkata,
Anjana Nath - Kolkata
February 24 Ragini Sarna - Varanasi, Indrani Mukherjee - Kolkata, Paromita bhattacharya - Kolkata
Suranjana Bose - Kolkata

March 6th, 7th and 8th. 2011
Calcutta School of Music, 6B Ballygunge, Kolkata
March 6 Swarn Vijh - New Delhi, Nabanita Chowdhuri - Greater Noida,
Neha Chimmalgi - Mumbai, Devashish Dey - Varanasi
March 7 Sanjana Chakraborty - Nadia, Kakali Mukherji - Siliguri,
Veena Kedar Sawale - Mumbai, Rajender Sijuar - Gaya
March 8 Ruchira Kedar - Pune, Sanjukta Biswas - Kolkata,
Sveta Hattangadi Kilpady - Mumbai, Nita Sinha Roy - New Delhi

March 31, April 1 and April 3
Diamond Hotel, Bhellupur, Varanasi
March 6 Brajeshwar Mukherjee - Kolkata, Arundhuti Dadare Choudhury - Burdwan
Maitreyee Sinha - Bankura, Mausami Sen - Kolkata
April 1 Dipanjana Bose Chanda - Kolkata, Madhumita Chattopadhyay - Kolkata
Sanjay Kr Mishra - Mumbai, Aditi Bannerji - Mumbai
April 3 Aastha Goswami - Vrindavan, Aradhana Mishra- Varanasi
Saswati Bagchi - Kolkata, Dr. Deepti Bansal - Ghaziabad

Details of the Grand Awards Baithak will be announced by mid April 2011
Panels for Regional Baithaks
Padma Shri Dr. Rita Ganguli, Smt. Savita Devi, Smt. Purnima Choudhury, Smt. Shubha Joshi,
Dr. Ritwik Sanyal, Smt. Dalia Rahut, Smt. Shubra Guha and Smt. Malashree Prasad.

Awards Jury Grand Panel

Padma Bhushan Smt. Girija Devi, Padma Vibhushan Pt. Birju Maharaj,
Padma Bhushan Pt.Debu Chaudhuri, Padma Bhushan Dr. N. Rajam, Padma Bhushan Pt. Channulal Mishra, Padma Bhushans Pds. Rajan and Sajan Mishra, and Padma Shree Smt. Shanti Hiranand