The Art Karat Excellence Award presented, Feb 2014.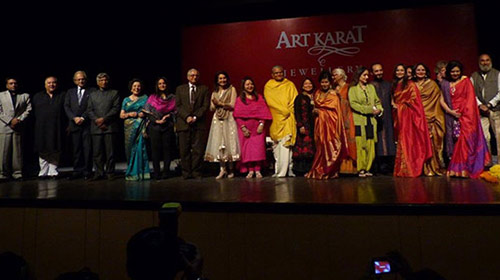 VSK Baithaks are, in essence, the public face of a personal passion of an individual- Vinod Kapur.

Starting tentatively in 1998, as a kind of an experiment of presenting music in an informal and personalized format, completely different from the manner in which classical music is performed and heard in the auditorium, VSK Baithaks have over the past 12 years, acquired not only a unique identity but also a position of absolute credibility with the music aficionados of Delhi. Through personal experience the Rasiks are confident that no matter who the performing artiste, the extended session of music that that they will listen to in the informal and friendly ambience of the Baithaks will touch their hearts, like nothing else does. During the course of its journey so far there have been 70 VSK Baithaks. Over 70 artistes have performed at the Baithaks, mainly vocalists and a few instrumentalists supported by scores of accompanists. These artistes and accompanists, some of whom have performed more than once, have come from all parts of the country. Amongst them are most of the leading names, several artistes who are not heard on the regular musical Stage of Delhi, and a number of brilliant new voices. Many of the artistes, who were introduced to Delhi audiences by the VSK Baithaks, are now amongst the leading names of India.

VSK Baithak in fact has gained the stature of a trusted Brand. A brand which assuredly delivers highest quality music in a friendly and informal traditional setting. No less it provides a much sought platform to artistes - the best known names, the lesser known names and the upcoming names- for connecting with the most responsive music audience of Delhi. The reputation and standing of VSK Baithak extends through out the Country and interestingly term "Baithak" is now a part of the music lexicon of the country and beyond.

The story of VSK Baithak is not an outcome of a premeditated design. It is a story of evolution through seemingly innocuous and happy coincidences. Happenings that go back to long before 1998.

Sowing of the seed
During the 80's Drawing Room Baithaks, were a regular feature at the residence of Vinod Kapur in Panchsheel Park . These music sessions would commence after dinner and go on for long hours till late at night. Occasionally a few young teenage friends of Vinod Kapur's son Rahul, would drop in on such evenings. They had no interest in the music but it was fun for them to witness the informal conviviality and joy that were the hallmark of such sessions. One of them, a youngster who was particularly close to Rahul was Rohit Khattar.

Years passed. In 1993 soon after their youngest daughter got married, Kapurs decided to move away from the rented home in Panchsheel Park to their farm in Gurgaon. In the mean time Rahul had grown up and joined the family business. Rohit who belonged to a family in the Hospitality business not only went on to join the family business but also established a new Company - Old World Hospitality - which had acquired the contract to manage the "public-face" activities of India Habitat Centre. Rahul and Rohit continued to be the closest of friends.

April 6, 1998
6th April 1998. It was Rahul's birthday gathering, after a considerable gap of time. Rohit and Vinod Kapur caught up with each other. Conversationally Rohit enquired "Uncle, now that you have moved to Gurgaon what has happened to those fabulous music evenings you used to have at Panchsheel Park?" He was surprised to hear that the music gatherings were going strong and that people were travelling all the way from Delhi to Gurrgaon to share these evenings. Sensing an opportunity to further embellish the cultural scenario of Habitat Centre, he asked "Uncle Vinod" would consider having similar music evenings at the Habitat in collaboration with Old World Hospitality. "Rohit" responded Vinod Kapur "You know my music is Drawing Room Music. If you can provide me to that kind of setting may be we can take the idea ahead" Rohit was clear in his mind. "It will, precisely the way you want it". A few weeks later Vinod Kapur prodded again by Rohit, visited the Basement of Habitat Centre. Though at the point it looked bleak and black, he visualized its potential. He shared his vision and thoughts with Arsheya Sethi, who had accompanied him and who was then looking after the cultural side of Habitat. Arsheya made a written note of all the specific details listed out by Vinod Kapur and assured him that everything suggested will be implemented. On this assurance, the date for the first VSK Baithak was fixed. 28th August 1998. Vinod Kapur called up Pt. Rajan Sajan Mishra in London and they agreed to sing. To give this experiment with music in a public place a name he decided to call it "VSK Baithak".

28th August 1998 - the First VSK Baithak
Vinod Kapur had laid down stringent specifications to ensure that the ambience of the Baithak would be as close to that of a friendly informal Drawing Room setting as practical. However, he was at heart more than a little sceptical whether the Habitat team would be able to so deliver. To ensure that there were no significant glitches; on 28th August Vinod Kapur arrived at Habitat about 90 minutes before the scheduled time of the Baithak. He was astounded "All my expectations had been more than exceeded" The steps down to the Basement were wreathed in flowers. There was a detailed arrangement to take care of the footwear, which all the Rasiks were required to take off. Tea/Coffee and cookies were laid out to welcome the guests. The doors of the Basement Hall opened to the friendliest of settings. At the far end there was florally decked up low stage with an elegant floral backdrop. Sparkling white "Chandni "had been spread out on the floor interspersed with colourful bolsters. There is a single row of chairs at the rear, along the wall, for those who could not sit on the floor. The place was glowing with cheer and colour and friendliness. And the contoured walls of the Basement reached out like arms to hold every one in a warm entrance. Shubha Mudgal graciously agreed to get the evening going and introduce the artistes. Rajan Sajan Mishra, taken up by the ambience and responsiveness of a hall full of Rasiks, were in an inspired mood. The music went on till midnight, with an intermission during which the Rasiks were able to access delectable snacks that Habitat had laid out for them. The Baithak was an unprecedented happening and an unprecedented success. It was a face of classical music, which had never been witnessed earlier. It was a new experience and what is more, a very fulfilling experience. And no less it was an uplifting experience for staff of Habitat establishment, who had put in a special effort to create the perfect ambience.

Till 10th March 2005 at the Basement of India Habitat Centre
Following this happy and auspicious beginning VSK Baithaks went from success to success, from accolades to accolades, attracting not only established Rasiks but also many who otherwise had never believed that they would enjoy classical music. The list of VSK Baithak Rasiks grew in numbers. Each Baithak attracted newer faces and fresh entrants to what was turning to be the VSK music family. Annually around 6 Baithaks were arranged between September and April/May. Meantime the private Baithaks at Vinod Kapur's residence at Gurgaon also continued. Given his penchant for listening to upcoming artistes and these not heard on the regular concert stage led him to "discovering" voices that he felt deserved to be heard. Unhesitatingly such artistes were featured in the VSK Baithak. So credible and trusted had become the image of VSK Baithak that all the featured artists whether a known name or unknown name received warm response and burgeoning audiences. The VSK Baithak would always be full, no matter who the artiste. And when there was a well known popular artiste, the Rasiks would overflow into the lobby and even onto the stairs. It had dawned, as a new found realization amongst the Rasiks, that the Baithak ambience brought the very best out of each artiste - well known or otherwise. The Baithak acquired the image of a Happening that the Rasiks of Delhi looked forward to; artistes, the country over, looked forward to; and no less the staff of Habitat Old World - looked forward to for the celebratory spirit that the event evoked.

During the period 1998 and 2005, 44 VSK Baithaks had taken place and each of them was a musical success. Some perhaps more than others It was an extraordinary track record of music which evoked delight amongst Rasiks. And possibly in some quarters a tinge of envy.

10th March 2005 - the last VSK Baithak at India Habitat Centre
On 10th March it was the 44th VSK Baithak in the Habitat Basement. It featured Pt. Ulhas Kashalkar. Between the repute that VSK Baithak had attained and Ulhas Kashalkar's popular standing, the Basement had overflowed its brim and Rasiks had even filled up the stairs leading to the upper level. It was a musically and in term of response a huge success. But it also opened up a can of worms. A music critic writing in his newspaper column, spoke very warmly about the music and audience response, but then went on to allude to the " safety" aspect of such an overcrowded gathering . The concern was not unjustified.

44 Baithaks through 7 years had established beyond a shadow of doubt that the VSK Baithak and India Habitat Centre Basement were indeed "Made for each other". Vinod Kapur was faced with a huge dilemma. Should he continue the Baithaks at the Habitat and restrict entry to comply with the " safety norms" which put its capacity at an absurd 150 ; or should he move away to a larger place, which even it was not so elegant and so " perfect " could accommodate all the many that came to listen to the music at the Baithaks. Declining entry to anyone who had come to listen to music, because, technically, as per the rules in the Book the place was full, went against his grain. VSK Baithaks had come to occupy a special place in the hearts of Delhi Rasiks; it had become an event that they looked forward. It had to acquire a cultural dimension in the public domain. There was no choice really, and it was one of the most painful choices that he has had to make. And so, Vinod Kapur with a sad heart decided to move VSK Baithak away for the Basement of India Habitat Centre, where it had been so fondly nurtured for 7 years. The Baithak had grown to a dimension that could not be "safely" contained in its Basement of the Habitat Centre. Or so the "Rule Book" said.

Since March 2005 - Sri Sathya Sai International Centre Basement
Delhi is a huge metropolis. And yet it is amazing how near impossible it is to locate one venue in South Delhi, which has an air-conditioned flat surface to accommodate 300-400 people, a small room to serve as a Green Room, clean toilets, and reasonable car parking space. At the end of extensive search the nearest fit was the Basement of Sri Sathya Sai International Centre. Not ideal by a long stretch, but it could serve the principal purpose. The huge granite floored basement required to be "engineered" to yield Baithak space and a lobby. The enormous stage had to be screened to create an ambience of closeness between the artist and the audience. The entire area Basement had to be wreathed in cloth curtaining and carpets laid on the floor to render it acoustically acceptable. All this called for huge effort and massive inputs each time. There were several draw bocks but it was centrally located; it was air-conditioned and most importantly it could accommodate all the Rasiks who chose to come.

And thus from Sept. 2005 till April 2010, 22 VSK Baithaks have been held in this venue. Each of them in terms of music and audience response has been a great success. Not withstanding the attendant problems with Parking and Green Rooms. And occasionally intrusive sounds from the concurrent programmes in the Auditorium upstairs.

August 2009 - The Ravi Shankar Centre - Chanakyapuri
In 2009, VSK Baithak got invited to use another venue for its music. The Ravi Shankar Centre in Chanakyapuri. It is an absolutely delightful venue much like the Basement of the Habitat Centre. It has a friendly air and is ideally suited for Baithaks. But it is also not without some issues. Currently the air-conditioning is inadequate for any period other than end November to Middle March. The capacity of the hall is limited to around 175. And it is located in relatively isolated part of New Delhi. Nonetheless 4 VSK Baithaks have been held at this location from August 2009 to March 2010 on basis of "Invited "audiences to keep the members controlled. Musically each of these has been an unqualified success. It is hoped that the air-conditioning will be enhanced to enable this venue to be used on a year round basis. It would be a huge pity if such a beautiful and otherwise appropriate location was to remain handicapped so severely for want of a few air-conditioners.